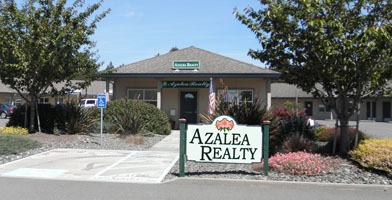 Welcome to Azalea Realty!
Humboldt County Real Estate Experts, serving Eureka, Mckinleyville, Arcata, Blue Lake, Trinidad, Willow Creek, Ferndale and all points between. Buy or sell your property with Azalea Realty.
Looking for property - residential, land, commercial?
First, review our
Office Listings
for sale below, or you can

Or only view
NEW LISTINGS and BACK ON MARKET in last week
Looking to visit Open Houses?

3 Bedroom 2 Bath - McKinleyville

Nicely landscaped home features open floor plan, laminate flooring, cozy wood stove, skylights, new carpet & interior paint. Yours, by the holidays!
MLS# 241749
More info
Commercial/Residentail - McKinleyville
GREAT Central Ave. location. Office Space with 3 Suites on the Ground Floor and TWO 2 Bedroom Units Upstairs. Includes Two 1 Bed 1 Bath Units and a 2 Bed 1 Bath House MLS# 237382
More info
3 Beds 2 Bath - Eureka / Cuten

1,181 sq ft. Lot is .62 acres, located down a private drive. Renovated kitchen, updated flooring and carpet, ample room for RV parking and gardening on this large sunny estate. Move-in ready!
MLS# 241235
More info
3 Beds 2 Bath Home + 2 Bed 2nd Unit - McKinleyville

1,897 sq ft. on .8 acres. Two-story home in great conditon, with new roof, RV parking, more. 2nd unit has own yard, deck & hot tub. Good location, near Hammond Trail.
MLS# 241657
More info
Featured Realtor

Please Contact Linda:
707 845-4597
email Linda Eckert
3 Beds 2 Bath - Northeast Humboldt

1,530 sq ft Excellent condition, fully fenced, enclosed patio with hot tub, Attached 2 car garage with work space, covered front porch, raised garden beds, a grape arbor, 2 carports and 3 Storage sheds.
MLS# 241150
More info