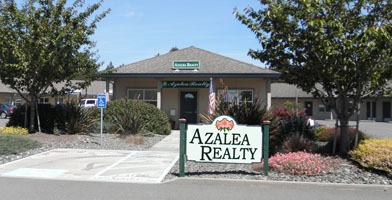 Welcome to Azalea Realty!
Humboldt County Real Estate Experts, serving Eureka, Mckinleyville, Arcata, Blue Lake, Trinidad, Willow Creek, Ferndale and all points between. Buy or sell your property with Azalea Realty.

Looking for property - residential, land, commercial?
First, review our
Office Listings
for sale below, or you can

Looking to visit Open Houses?

Azalea Realty, trusted by hundreds of your neighbors
Located on top of the hill in McKinleyville
Let Azalea Realty exceed your expectations

3 Beds 2.5 Baths - Trinidad
Home in quaint harbor resort has beautiful sun room, vaulted ceiling, skylights, hardwood floor, attached garage, pellet stove, greenhouse garden
MLS# 247599 More info

4 Beds 2 Baths - Arcata
Cathedral ceiling,new cabinetry, granite counters, stainless appliances, laminate flooring, all new bathrooms, new roof, fenced backyard, double-car garage.
MLS# 247546
More info
2 Beds 2 Baths - McKinleyville
Ocean West home with vaulted ceilings, 4 skylights, indoor laundry and attached double car garage; close to beach, trails and town center.
MLS# 246874
More info

3 Beds 2 Baths - McKinleyville
Open floorplan, vaulted ceilings, new carpet, breakfast bar, stainless appliances, Master with private bath, Patio with southern exposure, convenient location..
MLS# 247519
More info

Featured Realtor

Please Contact Andy:
707 616-3456
email Andy Parker
3 Beds 2 Baths - McKinleyville
Bay window in the living room, cathedral ceiling, 2 large closets in the master bedroom, vinyl windows, skylights in living room and dining room, newer paint & carpeting, low-maintainance yard.
MLS# 247387
More info
2 Beds 1 Bath - Hawkins Bar
Trinity Village home features inground pool, outdoor shower and bathroom, Bocchi Ball court. House is wrapped by redwood deck. Almost one acre of flat useable land.
MLS# 246238
More info
Home or Vacation - Big Lagoon
400 sq ft cottage near Big Lagoon, ocean, pristine beaches. With hardwood floor, newer roof, vinly windows, includes bunk beds & double bed, barbecue, linens and some furnishings.Just move in & enjoy the good life!
MLS# 247269
More info
Land! 80 Acres - Mid-County
2 parcels approximately 40 acres each near Tierney Canyon and Buck Rock, locked gates, creek through both parcels can provide water. Good access to both parcels.
MLS# 247146
More info